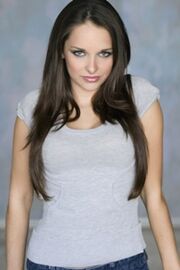 Vanessa Megan Fornier-Busch

Born

June 19, 1987 (age 25)


Chicago, Illinois

Relationship Status

Married to Kyle Busch

Hometown

Chicago, Illinois

Resides

Huntersville, North Carolina
Early Life
Vanessa is an only child to mother Patirica Fornier, a factory worker an Mike Fornier, an eleventh grade English teacher. Vanessa loved racing since she was six years old.
Life
Growing up, Vanessa was a loud, obnoxious girl (thanks to the Italian heritage that she'd developed from her father side) that loved to annoy people that she didn't like with a passion, but if she's around people that she likes, she's completely nice.
Vanessa ended up dropping out of highschool when she was in her senior year because of her aunt being in the hospital because of breast cancer. When her aunt left the hosptial after having the cancer out of her system, Vanessa didn't sign back into school to complete her senior year.
After that, she just hung out in Chicago with her friends, and going to any NASCAR race that came to the Chicago race track.
Personal Life
Vanessa is a person of Italian and French heritage. The Italian heritage is from her father's side and the French is from her mother's side.
It was the NASCAR Nextel Cup (now known as the Sprint Cup) Series race at Chicago where she'd met Kyle Busch, where they hung out before the race and after the race. When the race was over, Kyle decided that he would let Vanessa travel with him on the road, where eventually their friendship would progress into a relationship.
They were dating for four years until Kyle had proposed to her during the 2010 NASCAR Sprint Cup Season, which she accepted.
Vanessa and Kyle had gotten married on December 31, 2010
It was announced in May that Vanessa and Kyle were expecting their first child in January of 2012.
On December 21, 2011, Vanessa went into early labor. She had given birth to a daughter, named April Samantha Busch.
Siblings: Kurt Busch (brother in-law), Tyra Busch (sister in-law), Daniella Hatton (sister in-law)
Family Members: Sara Busch (Niece) Kristen Busch (Niece) Brooke Busch (Niece)
Twitter Account
Vanessa's Twitter account is @Vanessa_Busch. Everything is on there.