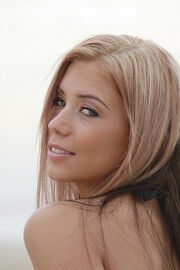 Tyra Faith Busch-Raikkonen

Born

May 2, 1986 (age 26)


Darlington, South Carolina

Relationship Status

Married to Kimi Raikkonen

Hometown

Las Vegas, Nevada

Resides

Baar, Switzerland
Early Life
Tyra is the younger sister of Kyle and Kurt Busch. Tyra got her love of racing from them, but she doesn't want it as a career choice (...just yet, anyways). She was born in Darlington, South Carolina, but grew up in Las Vegas when she was a year old.
Life
While growing up, Tyra was nice, quiet, helpfull to other people, and just everything that was needed for a great child.
During elementary and highschool, she was nice towards everyone that she came in contact with, and endedup befriendend some of those people and still managed her academics (where she had a 92% grade average). During the four years of highschool, Tyra was on the cheer squad. Freshman and Sophmore years, she was just a cheerleader. Junior year, she was the co-captain of the squad, then finally taking over the captain position in her senior year.
Tyra graduated from highschool as the valedictorian of her graduating class. After she left highschool, Tyra got a job as a waitress in a local resturant in Las Vegas because she was trying to save up money for her tuition for university. But, her university hopes went down the drain as she accepted the offer which was made by Kyle for her to come on the NASCAR circut with him when he made it that far in his racing career.
She was the bridesmaid for both Kyle's wedding with his wife Vanessa, Kurt's (now ex) wife Eva and soon to be bridesmaid with Kurt's wedding with Daniella Hatton
Personal Life
Tyra is the younger sister of Kyle and Kurt Busch.
Tyra is married with Formula 1 driver Kimi Raikkonen.
Siblings: Kyle Busch (brother), Kurt Busch (brother), Vanessa Fornier (sister in-law), Daniella Hatton (sister in-law), Brandi Hatton (sister in-law), Rami Raikkonen (brother in-law)
Family Members: Sara Busch (niece), April Busch (niece), Kristen Busch (niece), Brooke Busch (niece)
Twitter Account
Tyra's Twitter account is @TyraRaikkonen. She mostly uses it to talk to her friends and bugs Kyle and Kurt from time to time.