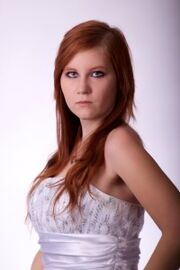 Tyler Christina Ganassi

Born

June 18, 1990 (age 22)


Fox Chapel, Pennsylvania

Relationship Status

Dating Brian Scott

Hometown

Fox Chapel, Pennsylvania

Resides

Concord, North Carolina
Early Life
Tyler is the only daughter of NASCAR, IZOD IndyCar and Grand-Am Rolex Sports Car Series team owner Floyd 'Chip' Ganassi. The first time she got addicted to racing was when she first laid eyes on it on the television screen when she was one year old and it was an IndyCar race.
Life
As a child growing up, Tyler was labeled as one of those kids who got injured way to much because out of simple situations, she would get injured and break some of her bones. From childhood to now, she had her neck broken about six times, broken both her wrists ten times (five on the right wrist, five on the left wrist), broken her fingers about ten times (one time per finger), broken her ankles four times (two for the left ankle, two for the right ankle), broken both her feet about two times, and had surgery on her right knee about three times.
Highschool, she was holding an average of 85%, while juggling her education and working on some of the cars her father might have brought home for her to practice if she wanted to have this as a career when she was holding. She graduated from the University of Pennsylvania with a degree in Mechanical Engineering and decided to help her father out with his NASCAR team 'Earnhardt Ganassing Racing', which was basically being her father's assistant for whatever needed to be worked on, and on the occasional time, worked on one of her father's stock cars. Tyler also helps her father out whenever she could in the IndyCar circut and also helps him when she could with his NASCAR Sprint Cup team.
Personal Life
Tyler is an only child and the daughter of NASCAR, IndyCar and Grand Am Rolex Sports Car Series team owner Floyd 'Chip' Ganassi.
On February 13, 2012, it was confirmed on Tyler's Twitter that she is going out with Brian Scott after a fan asked her if she had anyone to spend Valentines Day with.
TwitterAccount
Tyler's Twitter account is @TylerGanassi. She uses it to talk to her friends.