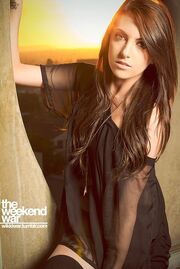 Serena Elizabeth Hamlin-Keselowski

Born

April 11, 1986 (age 26)


Chesterfield, Virginia

Relationship Status

Married to Brad Keselowski

Hometown

Chesterfield, Virginia

Resides

Mooresville, North Carolina
Early Life
Serena is the younger sister of Denny Hamlin, which they are very close when they were growing up and is still close now
Racing Career
The first time that Serena had stepped into some form of a race car was racing Ministocks at the local short tracks in Virginia when she was sixteen just for fun, which she ended up winning half of the races on the schedule. The next time she stepped into a race car was on October 15, 2011 during the 'Better Half Dash' charity race that took place at Charlotte Motor Speedway just before the Sprint Cup 'Bank of America 500' race, where she ended up winning the race
Serena spends her races sitting in Brad's pit box during the Sprint Cup and Nationwide Races
On April 26, 2012, she was spotted along with her cousin Kevin Jones at Richmond International Raceway saying the command to start engines for the 'Denny Hamlin Short Track Showdown' for charity.
Personal Life
Serena is the younger sister of Denny Hamlin, which the two are close. She also has another brother
Serena met Brad Keselowski at Charlotte Motor Speedway in May of 2008, which they hit it off as good friends, while hanging out with each other when they werre given a chance to.
In April just a year later in 2009, after the spring Talladega race (which Brad won), he'd asked her to be his girlfriend, which she'd accepted happily.
They've been dating for two years until May of 2011 when they were at Darlington, South Carolina where Brad proposed to her, which she accepted. They are planning to have their wedding in 2012. Serena and Brad had gotten married on January 14, 2012 in a small wedding in Daytona Beach, Florida after the last day of the Preseason Daytona testing.
Siblings: Denny Hamlin (brother), Summer Keselowski (sister in-law), Brian Keselowski (rother in-law)
Twitter Account
Serena's Twitter Account is @SerenaKeselowski2. She uses it to talk to her friends and posts photos of either herself, her and Denny or her and Brad.