We're Getting Mutants in the MCU - The Loop
Play Sound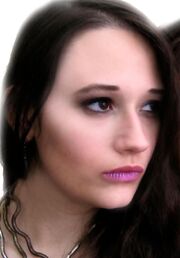 Natasha Doirs Cole-Briscoe

Born

September 15, 1987 (age 24)


Miami, Florida

Relationship Status

Married to Ryan Briscoe

Hometown

Miami, Florida

Resides

Homestead, Florida
Early Life
Natasha is the daughter of Mark Cole, an accountant and Bethany Cole, a pre-school teacher.
Life
Natasha growing up was a quiet kid, trying to stay out of everyone's way, and tried to graduate from school. In highschool, that changed when she accidentally got herself in a fight with another girl, which'd she won, resulting her in getting suspended from school for a month.
She'd graduated from highschool with a scholarship, which allowed her to go to University of Florida. After graduating from university, she just stayed around in Miami for a while, until moving to Homestead in September of 2008.
Personal Life
Two weeks after moving to Homestead, Natasha met Martin Cooper, and after getting to know each other after two days of meeting each other, they ended up in a relationship. Just a month into the relationship, they'd slept together. Eight weeks afterwards, Natasha found out she was pregnant, and went and told Martin after knowing the confirmation that she was pregnant. Martin didn't like the news that she was pregnant, because he didn't want to be a father, so he told Natasha to get an abortion. She didn't want that, so Martin just ended the relationship.
Two months after her breakup with Martin, Natasha decided to see an IZOD IndyCar race that was in Florida, and she ended up meeting Ryan Briscoe. After the race, they hung out for a while. A day later, Ryan invited her to go on the road with him. When they got to the IndyCar Series' next race, Ryan asked Natasha out on a casual date, and that was where she ended up telling him that she currently has a child from a previous relationship that didn't end so well.
On June 19, 2009, Natasha had given birth to her first child, Samantha Briscoe.
Natasha thought that Ryan would want nothing to do with her because of what she said, but was wrong. Ryan said that he would be there to take care of the baby. On December 6, 2009, Ryan and Natasha were engaged. On December 20, 2009, Natasha was pregnant with her second child. On Septemer 18, 2010, Natasha had given birth to her second child, Abigail Briscoe. Natasha and Ryan had gotten married on October 20, 2010.
Sibling: Bridget Briscoe (sister in-law)
Twitter Account
Natasha's Twitter Account is @NatashaBriscoe. Everything is on there