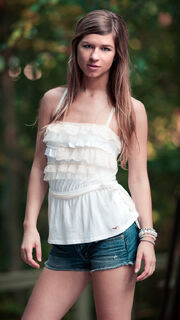 Kayla Erin Cote

Born

April 29, 1987 (age 25)


Buffalo, New York

Relationship Status

Single

Hometown

Buffalo, New York

Resides

Concord, North Carolina
Early Life
Kayla is the only child of a tenth grade history teacher and a twelfth grade biology teacher
Life
Growing up, Kayla had always wanted to be a model and a dancer. She always got involved in dance groups where she grew up, and always practiced what it took to be a model.
School for Kayla, she was good at as well where she was averaging an 85 to a 90% where she was then classified as a nerd. After graduating highschool in 2005 was where Kayla got 'noticed'. One day, her and her friends were bored, so they decided to do their own music video to the song, 'Wannabe' by the Spice Girls. The video was posted onto Fotki, where it was founded by both modeling and dancing agents. Those same dancing and modeling agents had contacted Kayla and wanted her for a whole bunch of things, which Kayla had accepted.
Modeling Career
First, Kayla answered to what the modeling agents wanted her to do. To have a 'jump-start' on her modeling career, Kayla had appeared on Cycle 6 of Americas Next Top Model. Kayla went on to win the whole thing.
Dancing Career
After finishing Americas Next Top Model, Kayla appeared on the second season of So You Think You Can Dance and placed second overall when the season was over.
Personal Life
Kayla is the daughter of a history and biology teacher.
After she was finished with 'So You Think You Can Dance', Kayla went and saw a Champ Car race, and that was where she met A.J. Allemdinger. They'd hung out after the race was over, and became really great friends. After that, they went out on casual dinners, which would progress to them being in a relationship. The couple became engaged in September of 2006.
Kayla and AJ had gotten married on January 19, 2007. On December 31, 2007, Kayla had given birth to her and AJ's first child, a daughter named Samantha Hope Allmendinger. Kayla had announced on her Twitter that her and AJ had gotten a divorce
Sibling: Abby Allmendinger (sister in-law)
Twitter Account
Kayla's Twitter account is @KaylaCote. She usually uses it to talk to her friends.