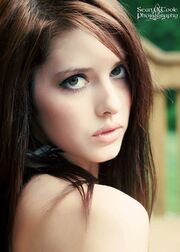 Jayden Liberty Penske-Power

Born

May 21, 1990 (age 22)


Shaker Heights, Ohio

Relationship Status

Married to Will Power

Hometown

Shaker Heights, Ohio

Resides

Mooresville, North Carolina
Early Life
Jayden is the youngest out of five siblings and is the daughter to NASCAR and IZOD IndyCar team owner Roger Penske
Life
Jayden had gotten her interest in racing when she saw her first Indianapolis 500 in 1994where it was won by Al Unser Jr. (who was driving for Roger Penske at the time), and Jayden got hooked on IndyCar racing. Jayden got even more hooked on racing when she saw her first NASCAR race two years later in 1996, which was the Daytona 500.
After graduating highschool in 2008, Jayden went to the July 20 'Honda 200' IZOD IndyCar Race in Lexington, Ohio. Jayden ended up appearing in Victory Lane congratulating one of her father's drivers Ryan Briscoe on the eventual win at the track.
Jayden now spends her days hanging out at the IndyCar circuit and appears at NASCAR races whenever she could when the IndyCar Series is having either an off week or their off season.
Personal Life
Jayden is the youngest out of five siblings and is the daughter of Roger Penske.
Jayden met Will Power at the Honda 200 IZOD IndyCar race. After meeting for the first time, they ended up forming a friendship, which lasted till July 21, 2009 where her and Will are in a relationship. They are still in a relationship till this day.
On November 1, 2011, Will and Jayden are officially engaged. They had a small wedding on February 3, 2012.
Jayden has a tatto of the words 'Racing Is In My Blood' along with an open-wheel car and a NASCAR stock car underneath that on her lower back. She had the tattoo since she was sixteen years old
Siblings: Roger Penske Jr. (brother), Gregory Penske (brother), Blair Penske (brother), Mark Penske (brother), Jay Penske (brother), Cassandra Power (sister in-law)
Twitter Account
Jayden's Twitter account is @JaydenPower12. She mostly uses it to talk to her friends and posts photos from time to time.
IZOD IndyCar OC's
Abigail Newgarden, Alexandra Hunter-Reay, Beth Wheldon, Bridget Briscoe, Cassandra Power, Chelsea Dixon, Hayley Fisher, Jayden Power, Kyla Hildebrand, Lindsey Andretti, Megan Hinchcliffe, Melissa Dixon, Natasha Briscoe, Stephanie Franchitti