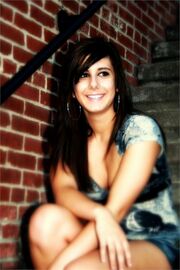 Ashley Isabella Newman

Born

November 17, 1984 (age 27)


South Bend, Indiana

Relationship Status

Single

Hometown

South Bend, Indiana

Resides

Mooresville, North Carolina
Early Life
Ashley is the younger sister of Ryan Newman. He was the reason that Ashley had liked racing. She also looks up to Ryan like a role-model
Life
Growing up, Ashley was an athletic kid. When she entered elementary school, she was involved in sports. Her main sports were soccer, basketball and volleyball during elementary school.
When she entered highschool, the main sports that she participated in were lacrosse, swimming, football and baseball. She ended up graduating from highschool with a full sports scholarship to any university, but she ended up giving that to someone who she thought was more deserving of it more than her.
Two weeks after graduating from highschool, Ashley was involved in a drunk driver accident. Ashley survived it, but broken her neck in the process. But, Ashley's friend that was also involved in the accident, Brooke, had died from serious injuries.
Ever since that accident, Ashley spends her days on the NASCAR circut with her brother.
Personal Life
Ashley is the younger sister of Ryan Newman
Ashley is also great friends with Aimee Stewart
Siblings: Ryan Newman (brother), Krissie Newman (sister in-law)
Family Members: Brookyln Newman (niece), Scarlett Newman (niece), Ashlyn Newman (niece)
Twitter Account
Ashley's Twitter account is @AshleyNewman. She uses it to talk to her friends, fans of NASCAR and fans of her brother. She also posts photos of herself from time to time